Equine Laminitis
How Soft Ride hoof boots can help comfort laminitic and foundered horses, ponies, and minis
Definition
Laminitis results from the disruption (constant, intermittent or short-term) of blood flow to the sensitive and insensitive laminae. These laminae structures within the foot secure the coffin bone (the wedge-shaped bone within the foot) to the hoof wall. Inflammation often permanently weakens the laminae and interferes with the wall/bone bond. In severe cases, the bone and the hoof wall can separate. In these situations, the coffin bone may rotate within the foot, be displaced downward ("sink") and eventually penetrate the sole. Laminitis can affect one or all feet, but it is most often seen in the front feet concurrently.
The terms "laminitis" and "founder" are used interchangeably. However, founder usually refers to a chronic (long-term) condition associated with rotation of the coffin bone, whereas acute laminitis refers to symptoms associated with a sudden initial attack, including pain and inflammation of the laminae.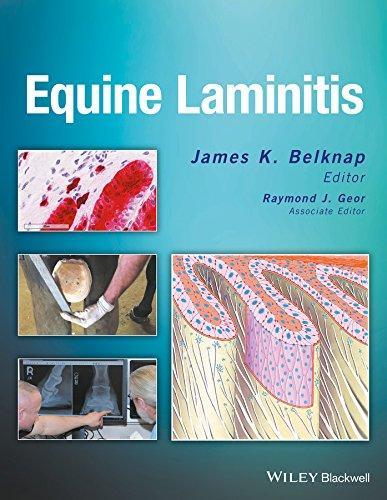 Causes
While laminitis occurs in the hoof, it may be caused by a number of factors elsewhere in the horse, including but not limited to:
Excessive shifting of weight to one leg due to injury to another leg, also known as support limb laminitis
Insulin resistance and obesity, particularly in horses that are chronically overweight
Consuming more carbohydrates than a horse's body can process, such as when a horse gorges on lush spring grasses
Signs and Symptoms
A horse suffering from laminitis frequently stands with their front feet pushed out in front and the hind feet farther under their body than normal, trying to find a comfortable place to put their weight. (Illustrated in above picture)
If the laminitic horse is willing to walk, it walks with a short stride, trying to get each foot back on the ground as quickly as possible. A laminitic horse will stand with hind feet brought forward under its belly trying to shift most of its weight from the front feet, which are further in front of its normal stance. In sever cases where all four feet are affected, it might lie down and be very resistant to standing because of the severe pain.
Diagnosis and Treatment
If your horse displays the classic symptoms of laminitis, immediately contact your vet and put Soft Ride Boots on your horse to provide relief. If your vet confirms a laminitis diagnosis, he or she will likely prescribe a treatment regimen that includes standard laminitis icing protocol. In addition, shoeing with SoftRiders will help your horse get better breakover, providing more comfort and less strain.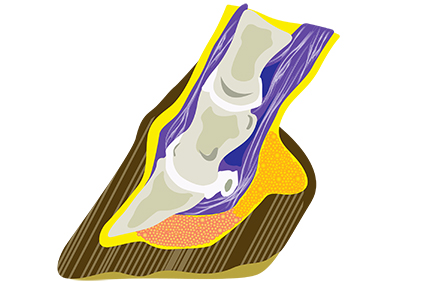 What a Healthy Horse Foot Looks Like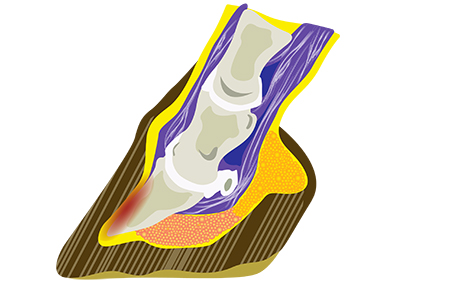 What a Laminitic (lame) Horse Foot looks like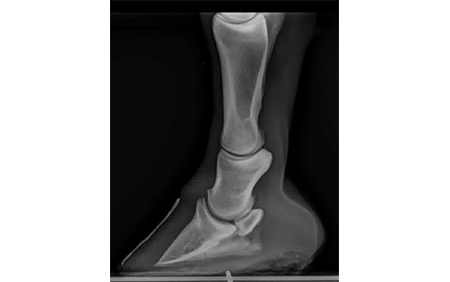 A Laminitic/Foundered Horse Foot X-Ray
How Practitioners Worldwide Rely on Soft Ride:
Practitioners and professionals around the world recommend and rely on Soft Ride's Equine Comfort Boots and Ice Spa to keep hooves healthy and to help horses recover from workouts and injury or illness.
Soft Ride's horse hoof boots offer protection while stabling on hard surfaces or trailering to events, and are a smart choice to provide protective comfort when used as part of the everyday routine with your horse. They're also used to soothe and comfort horses that are suffering from common hoof issues such as laminitis or navicular disease.
The Soft Ride Ice Spa is an easy, convenient way to provide your horse with a soothing ice bath. Practitioners and professionals alike regularly use an ice bath to help horses recover after a workout or competition, and they rely on the Ice Spa when following icing protocols to treat hoof health issues such as laminitis. The Ice Spa is also used without ice to treat abscesses and other conditions that call for soaking the feet and hooves in warm water.
Dr. James Belknap -The Ohio State University
"It is the only effective therapy for laminitis."
- Dr. James Belknap
Dr. Joe Stricklin
How to use the Ice Spa Prolong (Pro) with Dr. Joe Stricklin. Highlights the ease of use, the new zipper-less design, and the new retention collar design that makes it even easier to use. He also highlights the channelled orthotic design which allows for better cooling of the hoof, and that it's used it for foundered and hoof abscesses.
- Dr. Joe Stricklin
Brian Bell
"I've been using Soft Rides since 2005. You can have a horse that is really, really tender-footed, and put the Soft Ride's on them, and they walk out like they are walking on a cushion. It really keeps them comfortable."
- Brian Bell
Captain Robichaux, Executive Director of TUMPOT says: "This is the only boot I have ever found that helped a foundered horse. My farrier has never seen a case of road founder grow out and actually have a healthy hoof. This thing is a miracle!! We went from a horse that could not even walk to one that's running in the pasture when he wears his boots!"
Owner Liz Showalter says: "My 24 year-old Arabian, Saf Kim Dandy, has Cushings. Laminitis created a problem in his right front club foot. There were times in the last two years when he could barely walk. Until we discovered your Soft Ride Equine Comfort Boots, Dandy was headed for a tragic ending. These boots have given him a second chance at life."
Ariana and Caruso says: "Two years ago, I lost my jumper of 16 years to complications of laminitis, and this summer, I am facing another bout of it with my thoroughbred hunter. My vet insisted that I purchase Soft Ride boots and after a little hemming and hawing about purchasing yet another set of boots, I agreed. These boots were the last-ditch effort to comfort my horse as pain meds were not really helping. I can say that they are AMAZING!!!!"
Ruth McKinney from Mariposa, CA says: "It's been 39 days since I've seen her walk around and not look as if she were in pain!! I've cried an ocean of tears for my beloved horse. Tonight, I cried tears of joy. For the first time, she looked comfortable. Thank you for your product. It's a miracle."
Yaffa Chudnow says: "...your boots are largely responsible for my horse not only being alive but enjoying her life today. I had made the heart-wrenching decision to let Bella go in the fall of 2008 before the rainy weather set in, when Carrie, the farm manager, heard about your boots and suggested we try them as a last-ditch effort. To say these boots are a miracle is not an exaggeration. Your boots have given my horse 2-plus years of quality life that she would not otherwise have had."
Our customer, Mea Bitting, says: "Just wanted you to know that I LOVE those boots! They are absolutely wonderful and have made a huge difference in Rusty. Once he realized he could do anything he wanted without his feet hurting, it opened up a whole new world for him. At this point he is back to normal. An absolutely terrific product and I am telling everyone about them."
Give Relief & Comfort to your horse with Soft Ride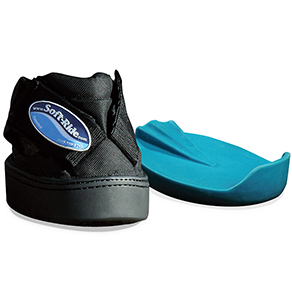 Comfort Boots with Gels Inserts
The original & patented "boot for horses." Designed originally to keep horses comfortable in the stall and on the road, equine practitioners quickly realized our boot & gel orthotic provide comfort to injured horses and protection to a healthy hoof.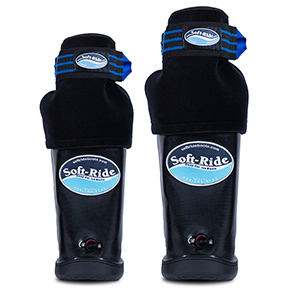 Ice Spa Boots
Digital Hypothermia & cryogenic therapy (icing/cold therapy) is quickly becoming the de-facto standard for laminitis treatment. Combine with our Soft Ride Comfort Boots & Gel Inserts in between icings, and as a preventative measure, to offer both an intensive therapeutic & comfort-based solution